Music is essential to the life of Bearden. We always love to have new people join us. If you are interested in participating in the Music ministry, please attend one of the practice sessions listed below or contact our Music Director, Brandon Loveday at bloveday@beardenumc.org.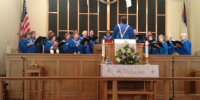 Choir
Practice Times
---
Adult:
Wednesdays at 7:30 p.m.
Location: Choir Room
Children's:
Wednesdays at 6:30 p.m.
Location: Room 205, Left side of the Sanctuary
Join us any Wednesday!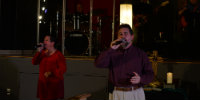 Praise and Worship Band
Practice Times
---
Sunday Mornings at 8:00 AM
Location: Gym
Join  us any Sunday!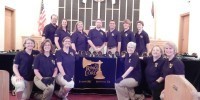 Handbells
Practice Times
---
Sundays at 4:30 p.m.
Location: Choir Room
Join us any Sunday, especially in August!

Handbell ringing is a wonderful art form and brings a very special and different dimension to the worship time at Bearden United Methodist Church. Learning to ring handbells requires commitment, teamwork, and fun – and our choir evidences all of these traits in our playing!
The Rings of the Lord is a group of dedicated ringers who have devoted their time to learning and showcasing the ancient art of handbell ringing. From August through May, the group practices on Sunday evenings from 4:30 to 6:00 in the choir room playing five octaves of Malmark bells and five octaves of Malmark chimes. The choir rings four times a year at church worship services. In addition, we present themed concerts twice a year, where we may join forces with our vocal choirs and other instrumentalists. The Rings of the Lord regularly participates in the Knoxville Area Handbell Festival and has performed at other churches and venues. The group consists of twelve to thirteen ringers and welcomes anyone who is interested in music and handbells to join in celebrating our Risen Lord with this beautiful instrument. The director is available on Sunday mornings or other mutually agreeable times to offer assistance outside of regular rehearsal times for those who desire it. If enough people are interested, a beginning choir will be formed.
The best time to join The Rings of the Lord is in August but anyone wishing to join at other times will be considered. A sincere commitment to attend rehearsals and performances is essential for success. The individual is dependent upon the group and the group is very much dependent upon the individual. The Rings of the Lord is a Christian family that rings together and laughs together, and we are very happy to welcome anyone who wishes to join us in celebration with music!
HISTORY
The handbell choir at Bearden United Methodist started in December of 1981 with a three octave set of Malmark bells. At the time the group was known as the Bearden Bells and played twice a year at Easter and Christmas. In July of 1997, under the direction of Ellen Raines, the church purchased an add-on 4th octave of bells. During the first months of 2005, Les Beaver became the director, and the choir began to expand their repertoire and frequency of playing in worship. Within a year the choir was presenting full concerts, had increased their playing ability, and changed their name to The Rings of the Lord. In 2009, a fund raising campaign was started which allowed the choir to purchase better foam pads, table covers, and a 4-octave set of handchimes that October. After five years, desiring to increase the complexity of songs they present and to better showcase their talents, the choir purchased an add-on 5th octave of both Malmark bells and chimes in July 2014.