Summer 2021
Children participate in classes featuring interactive, hands-on learning activities during our Sunday School hour. We also have a nursery staffed by professional caregivers and approved volunteers. Throughout the year, we offer different activities including missions, fellowship activities and Vacation Bible School.
Kid's Worship – Grades K-3
School Age children are invited to go to the Pathfinder's classroom for Kid's Worship with Mrs. Lindsey after the Children's Moment
Kid's Sunday School 9:30-10:15 am
Infant and Preschool classes are located on the first floor in the education wing, School Age classes are found on the second floor.
Sunday School classes are centered around fun activities that include singing, bible stories, games, and crafts that provide a good Christian foundation. Childcare is available during Sunday School and both services for Infants through Pre-School.
Classes, locations, and teachers include:
Preschool Sunday School
Toddlers & Pre-School                 Room 209 with Miss Liza & Miss Mary Catherine
School Age Sunday School
Kindergarten - First Grade          Room 222 with Team Mitchell
Second - Third Grade                   Room 223 with Team Millis
Fourth - Fifth Grade                     Room 224 with Mrs. Stacey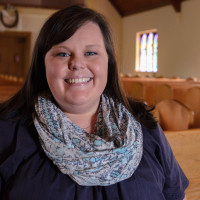 Contact the Children's Ministry Office for more information, 865-588-6562 ext. 105
Lindsey Piercy – Director Of Children & Family Ministries, [email protected]